July 5-6, 2014 - 8U 10U 12U 14U 16U 18U ($375)
USSSA Mid-STATE  Tournament
USSSA Sanctioned Event
Hosted by Columbia Rockers/Rattlers
COSMO Park in Columbia, Missouri
Antimi and Rainbow Complexes
2-Day Event (8U CP, 10U, 12U, 14U, 16U, 18U)  8u division is Coach Pitch
This is a State Level USSSA event that qualifies your team for World Series.
Register On-line Here  * $10 Fee to pay via debit/credit card
USSSA World Series Qualifier (2-Day Event)
1st place teams in each age/class win a berth to 2014 USSSA World Series
Our 2-Day Event offers 3 games,  3 Game Bracket.  Awards for 1st and 2nd place teams.  USSSA World Series Qualifier
Registration form and payment must be received before teams will be drafted into the schedule. Go under Registration to sign up.
There are NO pick up Players allowed for State tournaments.  All players must be on your roster.
(posted 12:35 pm Wed)
Below is the links to the USSSA brackets.  As games results are entered it will up date the brackets immediately.  If there are any discrepancies on game time/field, the Schedule above is the one to go by for game times and fields.  (just in case I had any typos in the brackets below).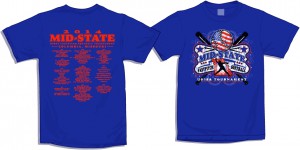 T-shirts will be on sale for $18 Each.