Apr 5, 2014 - 8U ($205)Apr 5, 2014 - 10U 12U ($295)Apr 6, 2014 - 14U 16U 18U ($295)
Columbia Kickoff Tournament
USSSA Sanctioned Event
Hosted by Columbia Rockers/Rattlers
COSMO Park in Columbia, Missouri
Antimi and Rainbow Complexes
Register On-line Here
$10 Fee to pay via debit/credit card
Mail In Registration Form
$295 on-line registration  or $285 mail in check
April 6th Update #2 –  Games on Antimi Purple are MOVED to Oakland East field.  Games on Antimi Black are moved to Antimi Purple.  There are two game changes highlighted in red on the schedule.  Please see the updated schedule.
Albert Oakland Fields Web page (address to Oakland)
UPDATED COLUMBIA KICKOFF SCHEDULE 11:15 AM Sunday

USSSA Columbia Kickoff 1-Day Event
April 5, 2014 – Saturday
8u (machine pitch), 10u, 12u, 14u

USSSA Columbia Kickoff – 1-Day Event
April 6, 2014 – Sunday
14u, 16u, 18u
Our 1-Day Events offer 3 games.  Teams receive USSSA Points and placing's based on Win/Loss record and runs allowed.  No awards given.  Entry Fee includes gate fee
Registration form and payment must be received before teams will be drafted into the schedule. Go under Registration to sign up.
Pickup Player Form (click here)  Click and complete the online form and the player request will be submitted for approval to USSSA.   Approval must be completed prior to the tournament.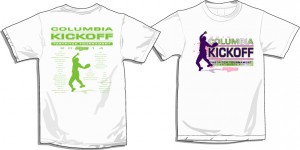 SPECIAL WEEKEND DISCOUNT COUPON AT DICK'S SPORTING GOODS 20% OFF.

Feel free to share this with friends and family.